Caretakers Of Golf (3 Of 8 In A Series) – G.O.L.F. (Gentelmen Only Ladies Forbidden) NO LONGER!
By Mark Shesky
Women Contribute to Golf's Growth & Vitality: Women may represent only about 20% of today's golfing population, but industry experts list this segment as an untapped opportunity for growth. Research shows more women are taking up the game, but attrition rates are offsetting the gains.
For 2012, Tee Times Press is running a series of articles focusing on the many organizations, both public and private, that support the growth of golf in Minnesota. The organizations that are being profiled in 2012 include the PGA, Explore Minnesota Tourism, Explore MN Golf Alliance, MN Woman's Golf Association, The 1st Tee, Fairways Foundation and others – all are Allied Partners of the Minnesota Golf Association.
The History of Women in Golf: Mary, Queen of Scots may have been the very first woman to take up golf in the mid 1500's, it was during her reign the Saint Andrews course was built, yet it was 400 years later that the first woman would be allowed to play there.
The 1800's proved to be an exciting decade for women in golf and, towards the end of 1893, the British Ladies Golf Union sponsored the first British Ladies' championships. Although Queen Mary was long gone, the Royal House was represented by tournament winner Lady Margaret Scott.
Meanwhile, across the pond, the United States was waking up to women in golf – the first women's golf tournament was held in Morristown, NJ on a 7-hole course. By the year 1895, women in golf were becoming a common sight and courses started opening their doors to women. Even the staid Meadow Brook Club, in Hempstead, N.Y., got into the act by sponsoring the first Women's Amateur Golf Championship which offered up a field of 13 women golfers. The trophy went to a lady who finished with a 132!
Golf for Women – Business Networking: Talented professional golfers and tournament competitors come from all walks of life; there are no age, race or gender restrictions, contrary to the old acronym G.O.L.F -"Gentlemen Only, Ladies Forbidden".
The sport of golf has often been utilized in business as a tool to test a new business associate or prospective employee, an opportunity to get to know them and also to see whether the person can handle stress and relax. Playing golf can be a great asset for any woman, for business, for pleasure, or for health.
Recognizing Opportunities for Growth in Women's Golf Participation – Courses Take Note! With the new programs and initiatives golf facilities and PGA have put in place, many women have been introduced to the game in the past few years. In 2010, almost two-thirds of all new golfers were women. The problem is that many women golfers are not staying in the game. Why are so many new female golfers playing less frequently, or giving up the game altogether? The difficult economy is to blame for some of this decline. Many women have gone back to work due to economic hardship. Other women may have small children or watch their grandchildren so the parents can work. This has decreased the time available for playing a round of golf. Of those that desire to play, participation options are limited. Many work and cannot play golf in the traditional weekday ladies club league. But a significant number of new female golfers have not stayed in the game for other reasons, unrelated to the economy.
Sports and Leisure Research Group conducted a survey in 2010 which interviewed 15,000 golfer's attitudes about the game of golf. The study found that both men and women value the game as a relaxing pursuit. The difference was that for most men, the socializing was an essential part of the game itself, but women saw the game of golf in more of an adjunct role to a pleasant outing with friends. They prefer to play less competitive, unstructured games casually with family or friends. Many do not keep score or have handicaps.
Some courses tend to underestimate the significance of golf course conditions, speed of play, and length of holes to women. Clean restrooms, adequate drinking water and well-stocked women's merchandise areas in the golf shop was also often overlooked. Of major concern was that staff did not recognize the importance of making the female player feel welcomed at the golf facility.
There are a number of organizations in Minnesota that are trying to reverse antiquated thinking. This includes the leadership at the Minnesota Golf Association (MGA) and Minnesota Section of the Professional Golf Association (PGA). The PGA Section and MGA conduct various educational programs, workshops and seminars for the benefit of local MGA members and PGA members/apprentices. Their work is augmented by the Minnesota Public Golf Association (MWPGA), Minnesota Woman's Golf Association (MWGA) and Executive Woman's Golf Association (EWGA). The PGA, MGA, MWGA and MWPGA have embarked on a number of unified activities.
Minnesota Women's Golf Association: The Minnesota Woman's Golf Association can trace its lineage back to the late 1800's. The MWGA is a collection of approximately 100 golf courses with membership for women. These courses are a mix of both public and private spread over 11 regions. Individual women members maintain membership through these courses.
The group not only appeals to adult women golfers but also encourages junior golfers. The primary qualification to be a MN Woman's Golf Association member is maintaining a handicap. Through the cooperation of the MGA this organization is active in clinics, rules education seminars, competitive events and scholarship opportunities. The MWGA encourages and supports casual and social golfers as well as competitive play. Development of the junior golfer is a priority.
The MWGA lists the benefits of membership in the most positive way:
• Have Fun
• Make Great Friends
• Support Women's Golf
• Encourage Junior Golfers
• Play Great Golf Courses
• Compete Against Other Talented Players.
Minnesota Women's Public Golf Association
The Minnesota Woman's Public Golf Association has come a long way since their first championship match beginning in 1948. For almost 65 years, the Minnesota Women's Public Golf Association (MWPGA) has been in place to serve the needs and interest of the women golfers of Minnesota who belong to women's leagues at selected public golf courses.  A public course is defined as any course offering playing privileges to the general public on a daily fee basis. The MWPGA currently has over 60 member leagues representing over 5,500 women from courses in Minnesota.
The MWPGA strives to professionally support and promote the interest of members and all female golfers, and to serve as a statewide information network that promotes cooperation across member leagues.  A major focus of the organization is to provide five professionally-run tournaments each year including a State Publinks Championship and Seniors State Publinks Championship (members 50 years of age and over).
The MWPGA is interested and involved in all aspects of women's golf with the goal of increasing women's participation in golf. The MWPGA maintains a close working relationship with the USGA and state golf associations such as the Minnesota Golf Association (MGA) and Minnesota Women's Golf Association (MWGA) – and it's working well.
Executive Women's Golf Association: The Executive Women's Golf Association (EWGA) is a not-for-profit organization founded in 1991 whose mission is to provide opportunities for women to learn, play, and enjoy the game of golf for business and for fun.
Since its formation, the Executive Women's Golf Association has enjoyed impressive growth. It now boasts a network of 110 chapters with more than 18,000 members across the United States and Canada. The Minneapolis chapter is one of the largest. The MN Executive Women Golf Association has a compelling percentage of "avid" golfers, which denotes playing 25-plus rounds per year. Over 60% of MN EWGA members are in that category.
To propel continued expansion, EWGA recently completed a rigorous strategic planning process, focusing on programs, member benefits & services, networking advocacy and growing women's golf.
One outcome of that planning process was a refinement of EWGA's mission statement: "To provide opportunities for women to learn, play and enjoy the game of golf for business and for life."
Leaders admit EWGA's name is sometimes a source of confusion since the group welcomes not just "executive women," but women with wide-ranging abilities on and off the course. The organization is in the midst of evaluating changing their name by replacing the word "Executive" with a word that better represents the purpose and make-up of the organization. More than 29 percent of the members classify themselves as "new golfers – most are career-oriented. Networking and mentoring are major priorities of the Executive Woman's Golf Association.
Women's golf appears to be losing players faster than men's golf. EWGA believes that overcoming attrition will depend in large part on the experiences golf courses provide. Making courses more women-friendly, responding to well-documented lists of what women want, and treating women with respect and fairness are issues growth-minded facilities must address.
Why Golf for Women in Todays Modern World? Golf develops discipline, self-control, decision-making skills, and is a significant tool used to consummate business transactions. Acquisition of basic golfing skills and understanding the business of golf enables young women golfers to compete more equally in today's complex environment. The programs of MGA, PGA, MWGA, MWPGA and EWGA afford young women opportunities to acquire golf skills, teamwork skills and professional development as well as avenues for networking in the game of life. More and more courses are reacting to the preferences and needs of woman golfers to help grow the game.
Golf draws women together in friendly competition and camaraderie. Most importantly, golf is FUN! Long gone is the acronym "G.O.L.F." that excludes women!
To learn more visit all of these helpful websites:
www.mwga-online.org, www.mwpga.org, www.mnewg.org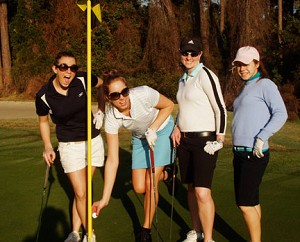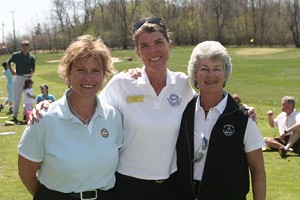 Kathy Swanson, PGA, Kim Vanderwall, MWGA and Connie Sugden, MWPGA