Cannon Golf Club – Having A (Cannon) Ball
By E. Nolan
Great golf arcs around the southern Twin Cities like scattered rays of sunshine. Southwest to Dacotah Ridge, straight south to Wedgwood Cove, southeast to the Jewel, you know about all of those… but what about what's in between? Cannon Golf Club is closer than the aforementioned three, just north of Cannon Falls (and West of 52) and well worth its own drive. Commuters to and from Rochester pass it every day, and likely press their longing faces against their windows while doing so. (Can't be just me.) It looks like a great place to play, and those fortunate (and/or wise) enough to exit and give it a shot (give or take 90) realize its genuine greatness.
A golfer from Rochester who plays Cannon Golf Club "Ten to twelve times a year," claims (in his words), "It and the Jewel are the best golf options in Rochester, and they're each 45 minutes north of us." When asked what makes Cannon Golf Club worth the drive he mentions several things, but begins and ends with the high quality of golf. "As great as it looks from the road, it's even better on the course." He and I are apparently on the same page there. Cannon Golf Club is repetitive only in that it is tough then easy, tough then easy. It never pushes you too hard, never backs off too much. The design makes compromises throughout (give a little, take a little) and provides variety that is, in fact, so great, that while the risks are definitely plenty… the rewards are typically even more plentiful. It is wide open on the plains, and super tight along the river. There are great scenic holes, captivating forced carries, and multiple ways to play most of the holes off the tee.
General Manager Erik Fox will tell you, openly, (and refreshingly, honestly) that they probably only get 7 full months of golf each year, but that every one of those seven is great at Cannon Golf Club. He'll also admit that there are several holes that may be a bit too difficult, but that smart play will always make your round more enjoyable. "Our greens are typically small and a bit on the narrow side and many have (more than) enough slope." He's right on all counts. I've never seen Cannon Golf Club in poor condition. The maintenance staff is always on point. The superintendent's battle (along the river and with so many lowlands) can't be easy, but he always seems to win. They (management and maintenance) deserve a great deal of credit for that.
Let's take a quick tour of the course. An elevated tee shot, adjacent the clubhouse and pro shop, fires you straight out, deep into a valley, and then quickly back up (the next two holes) before dropping you down by the river for your first real challenge on holes 4 and 5, snugly hugged by the river. (I have yet to avoid the river on #4. Maybe I should hit left-handed next time.) Many people consider the beautiful little marsh-guarded 7th to be the best hole on the front. It's definitely quite different from all the others. The difficulty multiplies heading off on the back nine, as you face arguably the toughest test at #10. A creek-carrying approach to a super-slanted green (back to front) makes you want to be short, but short is in the water. It's almost a no-win, but it's a pretty hole. It likely maintains a love-hate relationship with every regular golfer at Cannon. The next trio of holes tends to be the most popular on property, as water guards the tee shots on all three, and the par 3 twelfth is an absolute knockout. (Beautiful and/or will knock your scorecard out.) A full pond carry tee shot to a peninsular green, the surrounding "Autumn amphitheater" is an eye-opener these days, throughout September into October. You can settle down a little at 14 and 15, as those two cross over, and are carved back into, the same terrain as the front nine, and then there's one more giant change of pace, as the final three holes take on a more links-style, out in the wide open "wild western" part of the property.
The description briefly relays how many different natural elements come into play throughout the routing. It's true that the most beautiful holes definitely have the potential to be the most punitive and yet there are so many great scoring opportunities you'll likely find four or five scorecard highlights for every #?*! (coded curse).
With value-packed competitive rates (and a great Friday Night Fish Fry), the tee sheet stays pretty full daily. But there's definitely room for you. Rest assured, Cannon fires on all cylinders. Especially in September!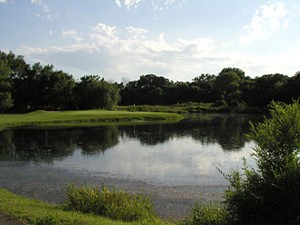 Cannon Golf Club #12 Photo Courtesy Of Dennis Shaw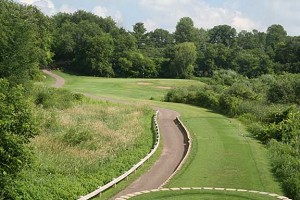 Cannon Golf Club #7 Photo Courtesy Of Dennis Shaw