Cannon Golf Club – Cover Model
By E. Nolan
For years I've fired up locals by claiming Cannon Golf Club is one the best golf courses just south of the Metro. Thirty minutes for great golf beats five minutes to a so-so local course. But when you're an admitted "golf snob" the options can be limited. You deserve the truth. Of the hundred or so public choices south of the Twin Cities, only a dozen of them deserve your money, and Cannon Golf Club is certainly in the top tier of that dozen.

The next time a local golf pro eggs my house I'm going to chase him down and ask him what really bothers him about my claim. Jealousy is no reason to commit a crime. And the truth should be more readily accepted when it's backed up by the popular and visual facts.

Cannon Golf Club is one beautiful course. It's a mermaid in middle Minnesota, perhaps the state's #1 roadside distraction for golfers. You can't drive by it and miss it. You can't drive by it and not want to play it. If that double negative bothers you, it's probably only because you're double positive I'm right. You know what I mean. If a roadside glimpse is all you get to judge this golf book by it's cover you'd read it and – as it has proven – what's inside is every bit as enticing… every bit as captivating. Cannon Golf Club is a popular "bestseller." It is worth the cover charge… you'd buy it without a discount and believe it to be worth every penny. It's a roller coaster that escalates on the car ride there and resonates across your face on the return trip home. I know this because I've lived it. I always wanted to play it. I drove past it forty times before I finally did. It was worth the wait, but I should have played it so much earlier. I've definitely played it a lot more since.

That's why I praise it as I do. It is operated by great people, maintained meticulously, and is a thrill ride of varied proportions and extremes from beginning to end. As a writer who thrives on – and strives to write with – complete transparency, I appreciate courses that are as good as advertised. I don't like to waste my time or money. I don't like to take risks and end up with regrets. I'm confident Cannon Golf Club provides far more rewards than regrets. The risks, as they should be, are taken on the course, and not in paying for your round.

If the word "risks" in the last sentence betrays a certain level of difficulty then my description has been successful. Even General Manager Erik Fox will admit to a couple holes being "perhaps a bit too difficult." But, inversely, there's just as many out there he could call "a little too easy" as well. It's very nearly the perfect blend. I once summed up Cannon Golf Club as, "Consistent. Tough then easy, tough then easy. It never pushes you too hard or backs off too much." I still stand by that.

I've seen Cannon Golf Club really wet, but never in poor condition. There are so many low-lying, river-hugging areas, it's a wonder how well kept it remains – the integrity it retains. There are a plethora of great holes, starting with the very first, a gorgeous drop shot into a tree-lined valley to a distant green. The aforementioned river, though beautiful, always gets me on #4 – and I know it's there (#everytime). And the snugly tucked in 7th is perhaps my favorite front niner.

The back nine is considerably harder, in my book. The approach on #10 is tough, to an even tougher to maneuver green. I have yet to bogey that hole – a truth that is both better and worse than it sounds. Holes 11-13 present the best threesome in Cannon Falls (#keepitclean) with #12 earning it's distinction as one of the state's very best 3-pars. And then the back wraps up with another threesome. A little more outside the box than the other – this one more gentle… more Minnesota Links than Wild.

No one's trying to tell you this is a Top 10 golf course in Minnesota – not me, not them, not anyone; but that's no slight. Truthfully that's not selling it short at all. For hundreds of thousands of Minnesota's it's the next best thing to one… a dream come true "home" course. "We get two more months a year to play this course than the other best courses (up north) get," Erik Fox says with a smile. "We'll take that and run with it." And they do.

Home. Run.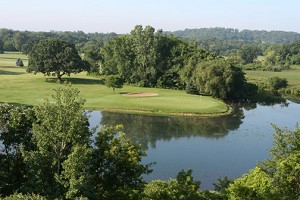 Cannon Golf Club #12 Photo Courtesy Dennis Shaw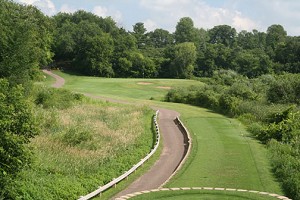 Cannon Golf Club #7 Photo Courtesy Dennis Shaw