Allen Wronowski – One On One With PGA Of America President Allen Wronowski
By Will Brogan
During Ryder Cup week, PGA President Allen Wronowski was gracious enough to share his thoughts on a variety of matters with Tee Times Magazine. Of course, the next time the Ryder Cup will be contested in America, it will be held at Hazeltine National Golf Club in Chaska, Minnesota.
But the Ryder Cup is not the only reason why Allen Wronowski and Hazeltine National are noteworthy additions to this issue of Tee Times: both are moving on in their own respective ways, but close out their current chapters at the height of success…
Tee Times: In case our readers don't know, you'll soon be stepping down as the 37th President of The PGA of America. What's your proudest moment during your tenure with the PGA?
Allen Wronowski: It is much too difficult to choose one moment, but I can choose one plan. We hired the Boston Consulting group almost two years ago to give us information from the consumer perspective on the game of golf. We certainly knew that economics were a major factor moving forward for player retention, but learned that time, the game being enjoyable and understanding how to participate were equally important. From the information we collected, we launched Golf 2.0, which is an industry wide plan to grow the sport to 40 million golfers by 2020.
The plan has three pillars, which are: strengthening and retaining the core, engaging the lapsed, and the building blocks (introducing new players). From that, programs such as Get Golf Ready, Tee It Forward, and PGA Junior League golf have been developed. It's an exciting time for the PGA to use our core values of teaching, playing and promoting the game.
TT: One of your biggest initiatives has been the further development of junior and minority golf. What are some of the key components of that movement, and how will the PGA improve on those initiatives in the future?
AW: The PGA of America's mission of building the next generation of golfers is an ongoing part of a PGA Professional's job description. It has been my passion since I became a golf professional to work with and support junior golfers.
The PGA of America has elevated its support of juniors through a variety of programs and initiatives. Together with the USGA, this year we welcomed the Boys and Girls Club of America as an Official Youth Development Partner in a new five-year mission that is introducing youth nationwide to the game of golf.
The Minneapolis area is one of 47 cities to include a Boys and Girls Club in this endeavor. The PGA provides golf training, equipment, and instructional support from PGA Professionals to help youth build character, develop healthy lifestyles, and learn the game of golf.
The PGA Sports Academy is designed to bring the next generation of golfers to the sport in a fun and interactive program. There are 38 facilities in the Minnesota PGA Section that currently employ the PGA Sports Academy. This program focuses on developing junior golfers using five key areas: Fitness and Nutrition, Golf Skills, Sportsmanship, Rules and Etiquette, Golf and «Near Golf» Experiences, and Golf and Physical Assessments. PGA and LPGA Professionals will deliver these five areas in a fun and engaging way. This will give every junior the opportunity to enjoy golf either socially or competitively, based on his or her individual desire.
Among our initiatives to build minority golf participation, one is hosting events such as the Champions For Diversity Tournament, which began this year and was structured after the Ryder Cup, and involves leaders of business and the golf industry to encourage networking and building new business opportunities.
Since 1998, we have hosted the PGA Minority Collegiate Golf Championship at PGA Golf Club in Port St. Lucie, FL, providing extra opportunities for collegiate golfers to showcase their skills and promote diversity among colleges and universities nationwide.
TT: In August, The Ocean Course at Kiawah Island hosted the PGA Championship. The second round was the highest scoring round in PGA Championship history, which led to some (undue, in my opinion!) criticism. What was your take on the tournament as a whole?
AW: The 94th PGA Championship was one of our most successful Championships for a lot of reasons. We enjoyed a ticket sellout, had praise from all members of the strongest field assembled in golf history (99 of the top 100 world-ranked players), and The Ocean Course – voted by Golf Digest panel as the toughest course in the USA, delivered well for worldwide viewers. Our Champion, world No. 1 Rory McIlroy, left a string of special moments that will rank among the best in major championship history.
TT: Hazeltine National will be the next American course to host the Ryder Cup. Can you share some insight on what goes on in selecting and preparing a venue for the Ryder Cup?
AW: When The PGA of America selects a venue for a Ryder Cup or any of our major spectator championships, we weight a variety of factors: the golf course, host infrastructure, location geographically, and the host community are all part of the equation. The PGA of America staff takes great pride in teaming with community leaders. Hosting a Ryder Cup is a massive teamwork effort that involves our colleagues from Ryder Cup Europe, the host club, and the host PGA Section. It is one thing to declare a Ryder Cup the pre-eminent team event in golf, and that stature applies to the collective work effort of all behind the scenes.
TT: Hazeltine's PGA Professional Mike Schultz is retiring soon. He was named the 2012 PGA Professional of the Year. You've said that presenting the PGA's various awards are among the best perks of the job. What's that experience like for you?
AW: I've been privileged to get to know Mike through association meetings, plus attending our PGA Championship there twice. Mike is a humble man, as are so many of our award winners, who do so much for their fellow professionals and our association. When you call individuals and give them the good news, they are usually very surprised and often times get emotional. To be singled out of 27,000 men and women whether as the Professional of the Year, Junior Golf Leader, or Merchandiser is a tremendous honor. I remember one call when the award winner said they had to call me back after a very, very lengthy pause, as they couldn't get words out about the award.
Mike Schultz, one of the great PGA Professionals, has served 37 years as a PGA member and his record of service at Hazeltine is marked for his having shaped the careers of more than 40 aspiring PGA Professionals. Mike will retire from Hazeltine at the end of this year and pursue other interests in the golf industry. Mike follows Wally Mund (1969), Jock Olson (2002), and Jim Manthis (2006) as Minnesota PGA members who have received the Association's highest annual honor bestowed on a PGA Professional.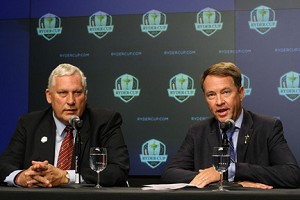 Allen Wronowski And Ryder Cup Captain Davis Love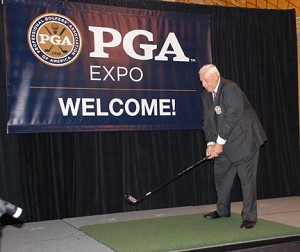 Allen Wronowski Opening The PGA Expo