26TH ANNUAL WAYZATA CHILLY OPEN – Wayzata Celebrates Winter On Lake Minnetonka
By Andrea Bader
Minnesota Golf in February? Since 1984 hundreds of golfers from all around the metro area have gathered on Lake Minnetonka in February to participate in the Wayzata Chilly Open. Saturday, February 13, 2010 marked the 26th annual frozen golf tournament on Wayzata Bay.
Over 850 golfers trekked out onto the Lake on a balmy 20 degree Minnesota February day to play nine holes of frozen golf with tennis balls. Some chose to play with the traditional five iron or putter, but some brought their entire golf bag or even a hockey stick!
This year Wayzata celebrated the "chilly" Minnesota winter season "ALL AROUND THE WORLD." Each of the 18 golf holes, sponsored by local businesses, represented a different country, with festive decorations, native fare and even animals from their chosen land! Tee Times participated this year, sponsoring a hole from Scotland. They even brought in sand for a sand trap!
With the Olympics beginning the evening before the event, golfers were able to participate in a few other activities to get into the competitive spirit while enjoying all of the fun and frozen festivities this great event had to offer!
To keep the competitors warm during this "chilly" event, golfers could escape to the 19th Hole Tent for a Chili Cook Off and entertainment. Seven chilis from local Lake Minnetonka restaurants were entered into this year's Chili Cook Off. Winners were Sunsets: Overall Best Chili, Wayzata Bar & Grill: Golfer's Choice and Wayzata Legion, Hottest Chili. Golfers and spectators were able to sample the chili as well all while enjoying live music from LIVEWIRE!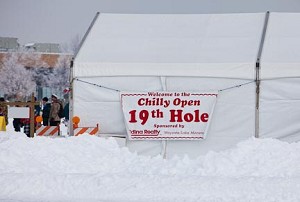 The 19th Hole At The 2010 Chilly Open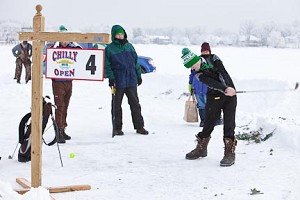 Golfer Tee Off At Hole #4